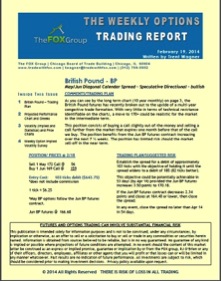 Receive one month free access to The Weekly Options Trading Report written by Trent Wagner of The FOX Group.  This is a limited time offer that allows those interested to receive via email our options newsletter that is normally exclusive to clients of The FOX Group.  The newsletter is sent out on a weekly basis and consists of the following:
Price charts and graphs
Implied volatility data and graphs
Real-time options position structured and accompanied by a complete trading plan
Sign up for your free access today and see for yourself how the tools available in this newsletter have helped many to become more educated options traders.
Thank you for your request, we will subscribe you to our newsletter.